MACRA, MIPS, and CPIA GO!: Tips for Success
5 October, 2016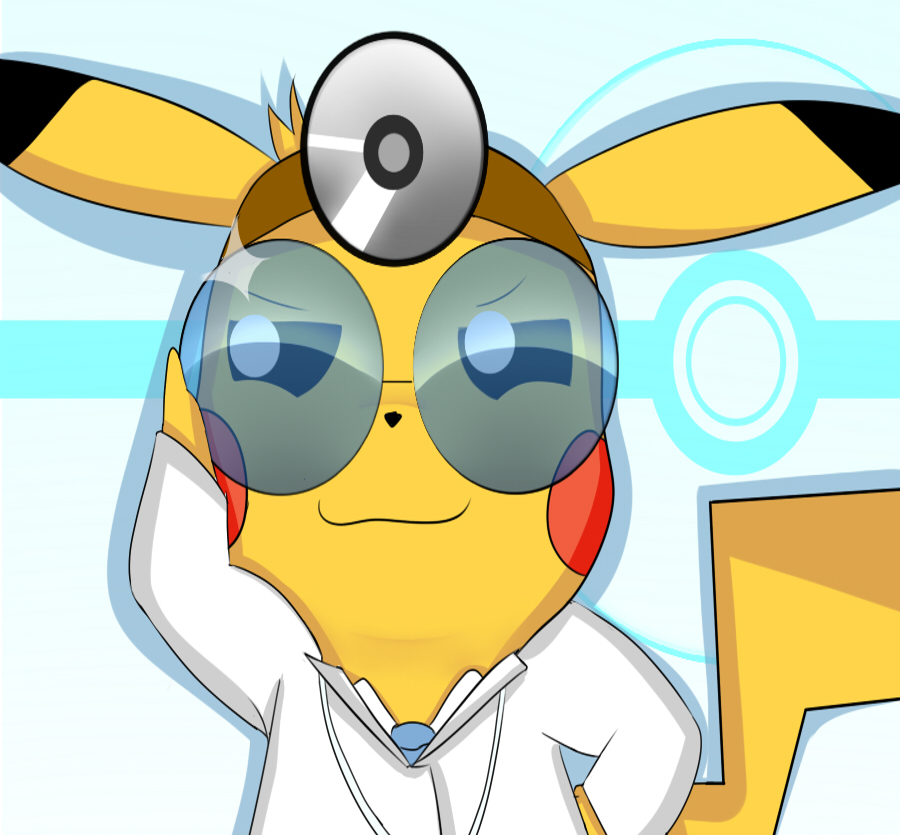 By Susan Corneliuson, MHS, FACHE, Senior Manager, GE Healthcare Camden Group
Pokémon GO!, a sensation in the gaming world, popularized location-based and augmented gaming reality but was initially released with mixed reviews. To some the game is little more than people running around catching virtual critters that appear in their coffee or on their neighbor's lawn at 2:00 in the morning; to others it is a game of strategy in which they pulverize rival teams by taking control of gyms. In some ways, the Merit-Based Incentive Payment System ("MIPS") is also a game of strategy with physicians pitted against each other to see who will win the most points and take control of the healthcare dollar.

The Clinical Practice Improvement Activities ("CPIA") performance category is the new addition to the Quality Payment Program under MIPS and with it also came mixed reviews. Adding incentives to improve the clinical practice environment, a category largely missing from past quality reporting programs, was seen as a benefit to the program. However, with over 90 activities to choose from there is concern about the cost to a practice of increasing or adding up to six new activities.
Regardless of the potential draw-backs how do we become early adopters of CPIA and succeed in this new quality environment? Let's think of CPIA as a game in which we have to catch three to six Pokémon (activities) out of 90 potential activities to win. In Pokémon Go there is a power hierarchy: those that are found everywhere (Caterpie, Weedle, Meowth) are worth less than those that are rarer (Venusaur, Blastoise, Dragonite). The less powerful Pokémon can be found everywhere so are easier to catch but can evolve into more powerful Pokémon.
CPIA activities are also arranged in subcategories and assigned a weight of "high" or "medium," earning 20 or 10 points each, respectively. Full credit achievement for this category is 60 points. Higher weighted activities are aligned with CMS national priorities and programs such as the Quality Innovation Network-Quality Improvement Organization ("QIN/QIO") or the Comprehensive Primary Care Initiative ("CPCI"). To be successful, select activities that are:
Easy wins such as activities that you are already doing
Simple to measure, track and report
Easily implemented with minimal effort or cost
Choose high-weighted activities for maximum points when possible. To achieve the highest potential score of 100 percent or 60 points, complete 3 high-weighted activities, 6 medium-weighted activities, or a combination thereof.
Remember, 100 percent achievement on the CPIA category is attainable since measures are selected by the practice and there are no performance thresholds established for comparison. The six proposed subcategories with examples of high and medium weighted activities are show in the table below.
CLIA Sample List of Activities with High and Medium Weightings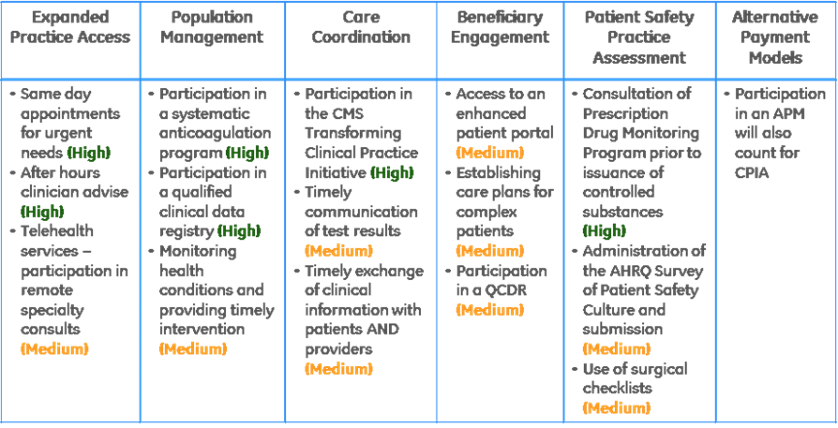 Source: Centers for Medicare and Medicaid Services
Examples of activities that are weighted as high include:
Population Management: Use of a Qualified Clinical Data Registry ("QCDR") to access practice patterns and treatment outcomes
Care Coordination: Participation in the CMS Transforming Clinical Practice Initiative.
Example of activities that are weighted as medium include:
Expanded Practice Access: Collection of patient experience and satisfaction data on access to care and development of an improvement plan
Beneficiary Engagement: Access to an enhanced patient portal that provides up to date information related to relevant chronic health conditions with bidirectional communication and interactive features.
There are a few activities that are more evolved than others and therefore earn a higher point value such as a patient-centered medical home ("PCMH") or alternative payment models ("APM"). Participation in a PCMH model or comparable specialty medical home automatically qualifies for 60 points; full credit under the CPIA category. Participation in an APM that does not quality as an advanced payment model will automatically receive 30 points or 50 percent of the maximum point value.
There are still a lot of unknowns under MIPS with the final rule expected November 1, 2016; however, preparing early and getting a jump start on your competitors will allow for more success down the road. MIPS is a zero sum game as no additional dollars are added to the budget which means that there will be winners and losers. CMS also anticipates that the first year will be the "easiest" under CPIA, with measures continuing to evolve over time. Just like Pokémon Go!, those that jump in early will be able to evolve more quickly and will have more potential to receive positive payment adjustments down the road.
---
Please join GE Healthcare Camden Group on Thursday, October 20th for a complimentary, hour-long MACRA webinar focusing on legislative details as well the necessary tools to successfully navigate through the next phase of participation for the Quality Payment Program, MIPS, and APMs. Please click the button, below, to learn more and register:

---
Ms. Corneliuson is a senior manager with GE Healthcare Camden Group and has over 15 years of healthcare management experience. She specializes in physician integration strategies, practice assessments, operational improvement, care and workflow redesign, and compensation arrangements. She is the co-author of The Governance Institute's signature publication for 2012, Payment Reform, Care Redesign, and the New Healthcare Delivery Organization. She has a strong background in physician practice management with experience in medical foundations, provider-based clinics, and specialty hospital settings. She may be reached at susan.corneliuson@ge.com.