Drive Margin Management Strategies to Achieve Bottom-Line Results With a Focus on Non-Labor Expenses
9 October, 2019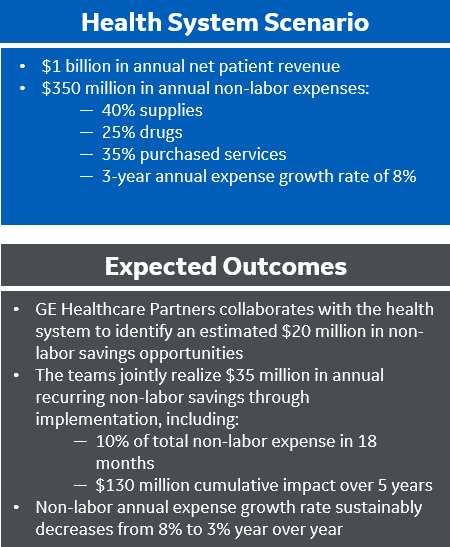 This article describes GE Healthcare Partners' experience helping health systems and hospitals drive margin management strategies to achieve measurable, bottom-line results with a focus on non-labor expense. Non-labor expense (spending on supplies, pharmaceuticals, and purchased services) represents up to 40% of an organization's operating expense and continues to be a critical and often under-optimized focus area. Importantly, many organizations have already done the traditional work of optimizing pricing through their Group Purchasing Organization (GPO) but commonly only achieve a fraction of the potential near-term, recurring cost savings that can represent substantial cumulative impact over time.
To download a PDF version of this article, please click here.
The Opportunity: 5-7% Cost Savings Beyond GPO Pricing
Growth continues to be an imperative for organizational financial success, but executives are facing unsustainable operating expense growth—ultimately diluting margins and limiting the cash flow necessary to fund key capital investments and other strategic initiatives.
For example, purchased services were the fastest growing expenses for six of the nine largest not-for-profit health systems from 2011-20161 and specialty drugs will continue to drive pharmaceutical cost growth with new specialty drugs accounting for an estimated 50% of the drug development pipeline.
Traditional non-labor cost management strategies depend heavily on pricing strategies and a reliance on GPO and other vendor partners to deliver savings through optimized contracting practices. These strategies are a good start but only achieve foundational, incremental savings—GE Healthcare Partners has a proven approach to help organizations adopt new and innovative value-based procurement approaches that drive an additional 5-7% savings on top of work already completed with GPOs and existing internal processes. The table below illustrates one example of what that 5-7% savings can mean for an organization.
Shifting to Comprehensive Cost Management
In order to achieve an additional 5-7%, organizations must shift attention from incremental cost reduction projects to a more proactive, comprehensive non-labor cost management program. When prioritizing opportunities in supplies, pharmaceuticals and purchased services, organizations need to consider GE Healthcare Partners' 360-degree methodology that includes:
Price | Leverage industry best practices and benchmarks to drive best in class pricing and contract development
Supplier and Product Standardization | Engage end-users in product evaluations strategic sourcing efforts to drive SKU rationalization and standardization to maximize leverage in contracting efforts.
Utilization Management | Leverage evidence-based practice to optimize utilization protocols for supply and drug formularies and eliminate waste for products and services
Revenue Enhancement | Optimize revenue-generating programs and services in pharmacy, lab and select purchased services categories to drive incremental revenue in programs like 340B, lab outreach, food services, parking and other categories
Make/Buy | Examine product and service delivery options to maximize value for the organization. This could include the evaluation of insourcing/outsourcing of programs like food and EVS but also examines other programs like internal versus external drug compounding, low-unit measure purchasing versus bulk buying and other select opportunities.
Why Do Organizations Engage GE Healthcare Partners for These Services?
Clients seek GE Healthcare Partners' non-labor services for several reasons with some examples listed below. In each case, the objective is to prioritize the value opportunities, create new governance structure, improve and expand procurement practices and process, implement, and track realized savings.
Drive

system integration

in an environment of health system consolidation, affiliation and partnerships. An integrated operating model is critical in order to leverage true economies of scale, strategic vendor partnerships, and other competitive advantages
Align with

value-based care delivery and payment models

that require step-change improvements to drive clinical transformation efforts and reduce clinical variation and waste
Generate more

immediate, significant operating cash flow

to fund capital needs and strategic initiatives—particularly as part of an enterprise margin management effort in which it could take several years to realize gains through sustainable workforce redesign and other efforts
Develop

sustainable, organizational capabilities

to proactively control non-labor expense growth on an ongoing basis, independent of a health system's GPO, procurement partners or other external participants—expecting that product/service pricing and options will continue to increase year over year
Shifting from reactive, incremental cost out to

comprehensive, proactive cost-avoidance strategies

Leveraging a temporary workforce consisting of clinicians and subject matter experts with hundreds of years in experience to identify unique opportunities with a laser-focus on execution
The GE Healthcare Partners Approach
At the core, GE Healthcare Partners is a committed, collaborative partner with our clients. Throughout every phase of the relationship, we emphasize aligned incentives and mutually rewarding outcomes that are accretive to the client's income statement.
Non-Labor Cost Management Program:
Top-down governance including senior leadership and engagement to centralize and drive strategic decision making
Rapid transition from data-driven opportunity prioritization and project plan sign-off, to activation—laser focus on resourcing measurable initiatives only
Multi-disciplinary teams that align physicians, staff, supply chain, and finance in a system-wide process improvement effort—supported by evidence-based guidelines and GE Change Acceleration Process (CAP)—to drive active engagement by clinicians
Embed GE subject matter (e.g. supply chain, Pharm. D., etc.,) and analytic experts (Lab Technicians, RNs, etc.) in implementation teams as an extension of the client's staff to coach and model new practices
Institute system-wide benchmarking, highly accurate data categorization, and ongoing measure realization by leveraging advanced analytics, proven tools, and multiple software platforms
Integrate software to monitor, validate, and sustain achieved savings over time
Constructive collaboration with a client's external procurement suppliers, distributors, and GPO partners to establish mutually advantageous outcomes and reinforce GE Healthcare Partners' complementary value to the services provided by procurement partners
Disciplined approach to continuous improvement and identification of new opportunities
---