---
GE HealthCare "Command Centers" Recognized with Frost & Sullivan's 2018 Global Visionary Innovation Leadership Award
20 September, 2018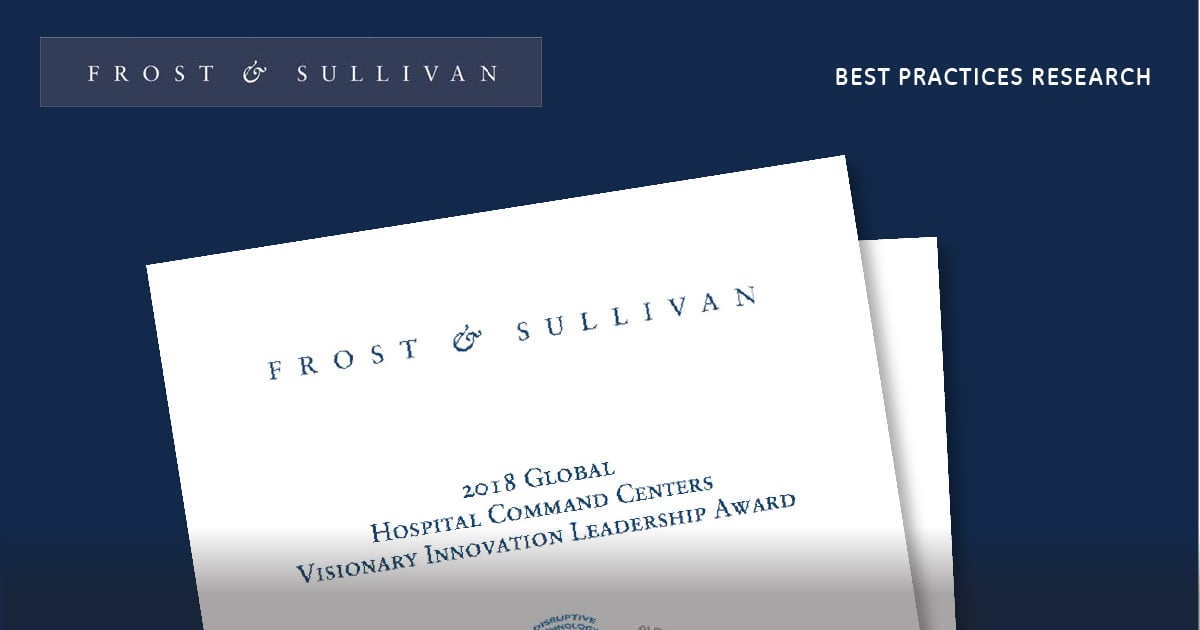 Frost & Sullivan, a growth partnership company, awarded GE Healthcare's "Command Center Solution" its Best Practices Award for Global Visionary Innovation Leadership.
Each year, Frost & Sullivan recognizes the company that demonstrates excellence in growth and customer value. It recognizes the superiority of the product/service, as well as the overall customer, purchase, ownership, and service experience delivered, which has resulted in the recipient company seeing above-market growth and greater share of wallet.
The award lauds the growth, diversification, and sustainability strategies of the company.
Based on its recent analysis of the global hospital command centers market, Frost & Sullivan recognized GE Healthcare Partners citing a unique holistic command center solution to optimize patient care delivery.
The command center solution helps hospitals and hospital newtorks improve outcomes and efficiency by employing the most advanced technologies such as prescriptive and predictive analytics, machine learning, natural language processing, and computer vision in a new "command center" department in a purpose-built space manned by newly empowered staff helping front-line caregivers 24x7.
"Unlike competing command centers that serve specific objectives, GE Healthcare Partners' solution is holistic and custom-fitted, covering the entire hospital or health system's operations and targeting multiple tasks based on the facility's needs," says Siddharth Shah, Industry Analyst at Frost & Sullivan.
"The approach is technology-agnostic, but relies on the data collected by various technologies implemented in the hospital.
This makes the command center scalable, and expands its application scope to cover patient access, patient throughput through the length of stay, clinical pathways, clinical imaging, patient discharge, and even telehealth and population health initiatives."
In its Award Report , Frost & Sullivan cites GEHCP command centers for:
A breakthrough capability for patient and staff experience, outcomes and efficiency.
A combination of artificial and human intelligence to predict risk, orchestrate complex care activity and support evidence-based medicine; and provide a center of gravity for cultural integration and continuous improvement
The employment of technology to drive action by applying AI to constant Real Time data from machines, devices, EMRs, and other software.
"We're delighted to be recognized by Frost & Sullivan for our Command Center work," says Jeff Terry, CEO Command Centers, GE Healthcare Partners.
"It's a testament to the tenacity, innovation and focus of both our team and the caregivers we're honored to serve."
"Hospital departments typically work in silos, but GE Healthcare Partners' co-location approach promotes synergies as well as facilitates future technology adoption of tele-ICU, telehealth services, home health services, and population health efforts," noted Shah.
"One of the reasons for the success of GE's command center is the company's decision to not disrupt the front-line care team members, but rather empower and support them in their daily duties. The combination of human and artificial intelligence has proved a winning move and positioned the company for further growth."
GE Healthcare Partners will be formally recognized and presented with the award at the Frost & Sullivan Growth, Innovation & Leadership Awards Gala on October 2, 2018, at the Paradise Point Resort in San Diego, CA.
To read the full press release announcing the award please click here.