MACRA: How the New Merit-Based Incentive Payment System Will Impact Physician Practices
14 July, 2016
By Nidhi Chaudhary, Consultant, GE Healthcare Camden Group
Healthcare delivery and its corresponding costs are changing due to recent industry trends. Value-based programs reimburse healthcare providers for the quality of care they provide to patients. To support this, the Medicare Access & CHIP Reauthorization Act of 2015 ("MACRA") intends to reform Medicare payments to physicians over the next several years. MACRA has two pathways:
The Merit-Based Incentive Payment System ("MIPS")
Alternate Payment Models ("APMs"), which will take effect starting in 2017.
In order for practices to survive and compete in this value-based environment, specific initiatives must be deployed this year.
Transitioning to the MACRA MIPS model
There are currently multiple quality and value programs for Medicare providers: Physician Quality Reporting Program ("PQRS"); Value-Based Payment Modifier; and the CMS EHR Incentive Program.
MACRA streamlines those programs into MIPS and adds a fourth category called Clinical Practice Improvement Activities. Below is an example of MIPS Scoring for Year 1:
Challenges Faced by Physicians:
Uncertainties surrounding the shift from volume-to-value
Potential reduced reimbursement for services
Tracking of quality and cost management
Optimizing electronic health record ("EHR")/registry use
Key MACRA questions for medical groups:
What does the current Quality and Resource Use Report ("QRUR") tell you?
What is the implementation plan for 2016 and 2017?
What are the right measures that should be tracked and reported? Are workflow changes required?
What clinical practice improvement activities will be added?
How will the current infrastructure support the initiatives?
Is additional technology required?
How will the composite score be optimized?
Do we have adequate resources and education opportunities to be successful?
How can GE Healthcare Camden Group help organizations create and navigate a MACRA roadmap for 2017?
We help organizations:
Identify gaps and priorities by performing a MACRA readiness assessment
Help groups form and facilitate a steering committee with a shared vision
Integrate change management methodologies to ensure success
Create education and communication plans
Develop a tactical MACRA roadmap focusing on strategic and operational objectives
See our sample work plan and timeline below: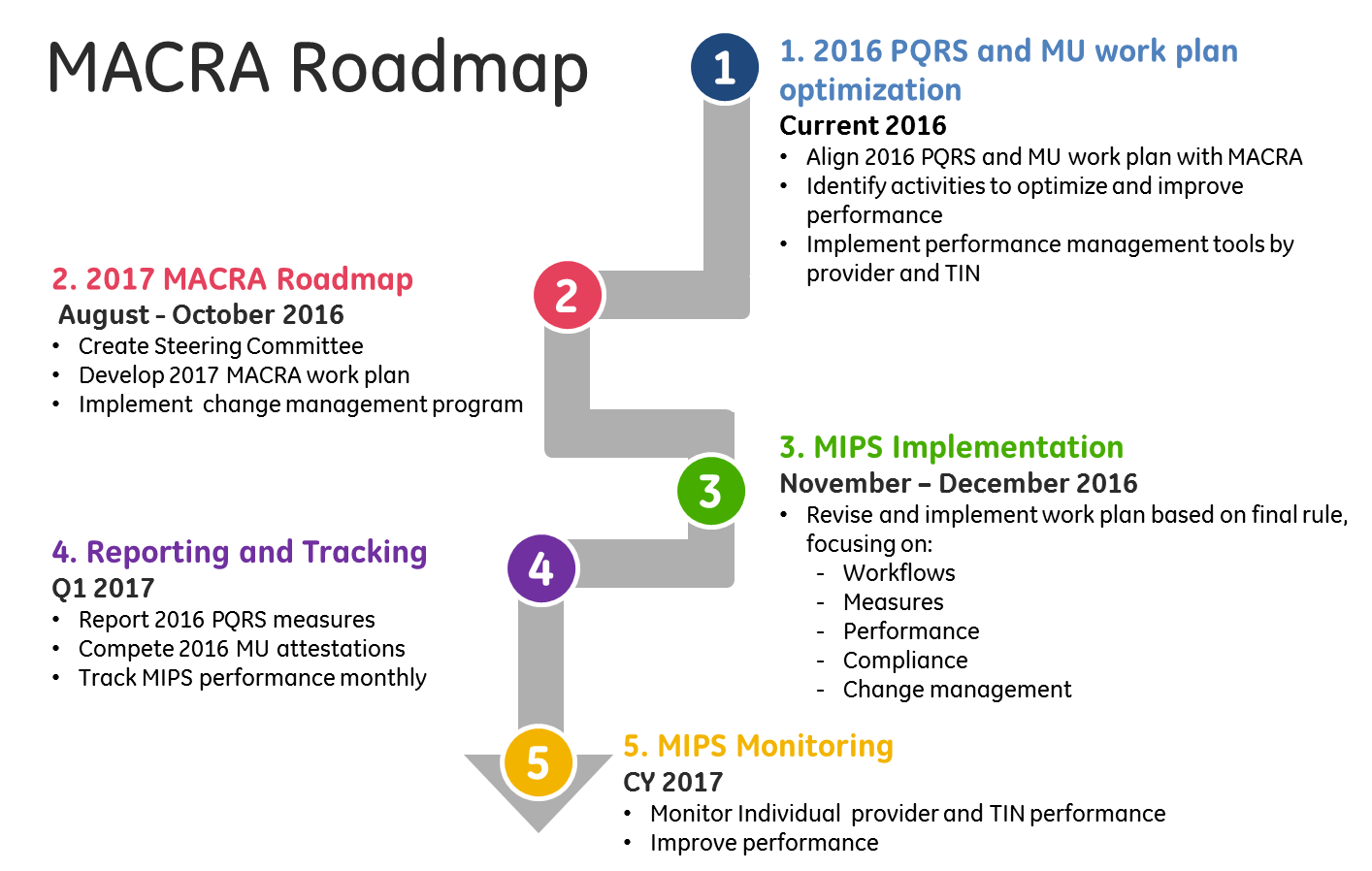 If you want to get started with your own, personalized MACRA roadmap, click the button below and a GE Healthcare Camden Group MACRA expert will be in touch to start you on your way.
---
Ms. Chaudhary is a consultant with GE Healthcare CamdenGroup specializing in delivering strategies, working to provide more efficient and lean processes as well as coaching leaders and management. Ms. Chaudhary joined GE Healthcare in 2007 and has extensive experience in Regulatory Affairs and Quality Engineering pertaining to both medical and pharmaceutical devices. Ms.Chaudhary has provided support for strategic and business planning while working within the business and with the medical staff at multiple hospitals. She may be reached at Nidhi.Chaudhary@ge.com.