Meet the Practice: Physician Services
18 February, 2016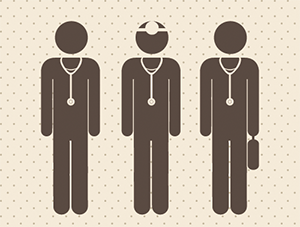 This Meet the Practice overview, examining the Physician Services practice, is the second in a series in which GE Healthcare Camden Group shares insights into our five newly aligned practice areas:
Physician Services
Population Health Management
Strategy and Leadership
Financial Advisory and Transactions
Physician Services
Practice Lead: Marc Mertz, Vice President
Explain the need and problem solved for clients by your practice
With the passage of the Affordable Care Act and a host of market changes, the challenges physicians and medical groups now face are tremendous. New payment models are emerging, consumerism is increasing, public reporting of quality measures and costs is on the rise, retail clinics and other new providers offer new competition, and EMRs and mobile health are fast becoming "table stakes." As providers consolidate, find strength in size, and work to redesign care delivery, we make sure physician organizations are poised to succeed in a value-based world.
What are some of the top capabilities or offerings of the practice?
Our top offerings include:
Medical group performance assessment and improvement
Improving patient access
Physician/ Hospital alignment strategies
Physician compensation plan design
IPA and Medical group development/ M&A
Medical group organizational redesign (governance and management)
Revenue cycle management improvement
Physician onboarding strategies
Medical group performance monitoring and dashboard reports (partnership with dashboardMD)
What is the value or ROI that is provided by solving these challenges?
Our goal is to empower medical groups to better perform financially, clinically, and operationally. To achieve this goal, we work with each group to improve patient, physician, and staff satisfaction and engagement while also improving overall patient access to care.
What synergies differentiate this practice area (and GE Healthcare Camden Group)?
Nearly all health systems or hospitals utilize employed or closely-affiliated physicians, and many of those groups underperform based on organizational objectives. Physician Services helps clients improve medical group performance and outcomes.
To this point, our work has historically included assessment and development of implementation plans, but typically stopped short of activation. GE Healthcare Camden Group is now well-positioned to provide Physician Services clients with activation support and change acceleration that ensures long-term success and sustainability.
Another differentiator is our AccuTracker software—proprietary, mobile-enabled software developed by GE Healthcare Camden Group, and designed as an easy-to-use app that helps users time processes and track EMR efficiency. Using AccuTracker, you can track cycle times for clinical processes (e.g., clinics, urgent care centers, operating rooms, emergency departments) as well as non-clinical processes, such as revenue cycle management. Over time as more data is collected and aggregated, it will also allow you to benchmark your results against other organizations (organization names will not be disclosed) so you can identify areas for improvement, all from the convenience of a mobile device. The software is completely customizable; you can either use the pre-defined benchmark processes or create custom processes to track.
An overview video may be accessed here.