---
The Future of Healthcare in the New Normal Era - 21st World Knowledge Forum
21 September, 2020 - Maeil Business Newspaper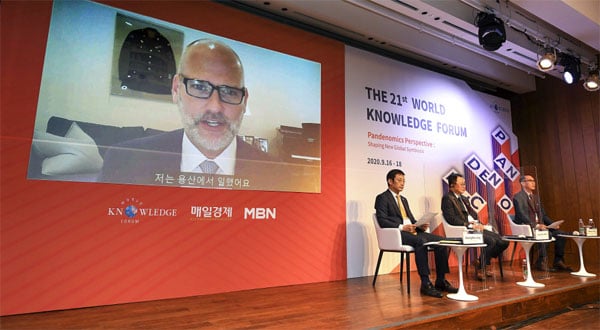 Healthcare industry in pandemic is evolving to be "Untact 1 (non-contact)." AI analyzes data and information while caregivers focus on the patient care.
"I would say what COVID-19 showed us was the speed at which healthcare system can change. We saw convention centers in almost every city turned into inpatient space. We saw also ventilator production ramp up to 120,000 ventilators in four months. This just scratches the surface of what was done, but real mobilization and change in a very rapid amount of time. After COVID-19, the healthcare system will be Real Time and untact. The easiest way to understand Real Time healthcare is to think about Amazon and Netflix. This will be the new normal." Said Jeff Terry, CEO of Clinical Command Centers at GE Healthcare.
Terry gave an online presentation at the 21st World Knowledge Forum, 'The Future of Healthcare in the New Normal Era', that was held at the Emerald Hall of the Shilla Hotel in Seoul on the 18th.
GE Command Centers utilizes artificial intelligence (AI) to analyze the data and information in Real Time. It increases the quality of patient experiences and the efficiency of hospital operation.
President Jong Hoon Park from Korea University Anam Hospital shared his field experiences that improving operational efficiency in hospitals has emerged as a big task due to COVID-19.
He said, "For a large hospital with more than 1,000 beds, it is difficult to predict the bed capacity of tomorrow or even the day after tomorrow despite the advancement of IT. It is difficult to predict the current situation in the hospital even if the government suddenly requests for cooperation in relation to the COVID-19. Due to the development of IT and collecting various data, medical staff are more likely to focus on recording the data rather than patient care. As a result, patient safety is not guaranteed."
He believes that the new normal is to improve the efficiency of labor-intensive work by introducing operating tools such as Command Centers, while avoiding face-to-face treatment as much as possible and achieving 'untact medical care'.
---
1 Korean English word similar in meaning to 'non-contact'
Example: One of the high-trending buzzwords in Korea these days is "untact" ― a new term coined by combining English language elements; prefix "un," which expresses the opposite state of an adjective that it precedes and "tact" borrowed from the word "contact." [https://www.koreatimes.co.kr/www/biz/2020/04/175_287141.html]
Maeil Business Newspaper:
The Maeil Business Newspaper is the most popular and influential economic daily in Korea. Established in 1966, it is one of the leading business newspapers covering the vivid, fast moving economic trends of Korea and all layers of industries and sectors with a daily circulation of 900,000. The Maeil Business Newspaper is a local multimedia group with a Cable TV station (MBN), a website as well as daily and weekly publications nationwide. Since December 2011, it has been operating a terrestrial television channel. 'The Biz Times', in which the interview will be published, is a 12-page weekly business section published in the Maeil Business Daily. This section aims to provide readers with in-depth analyses of companies and best management practices of industry leaders. The section includes CEO interviews, case studies and contributions from professionals and business leaders.