---
Two New COVID-19 Tiles Support Clinical Command Centers, Hospitals, and Health Systems
31 March, 2020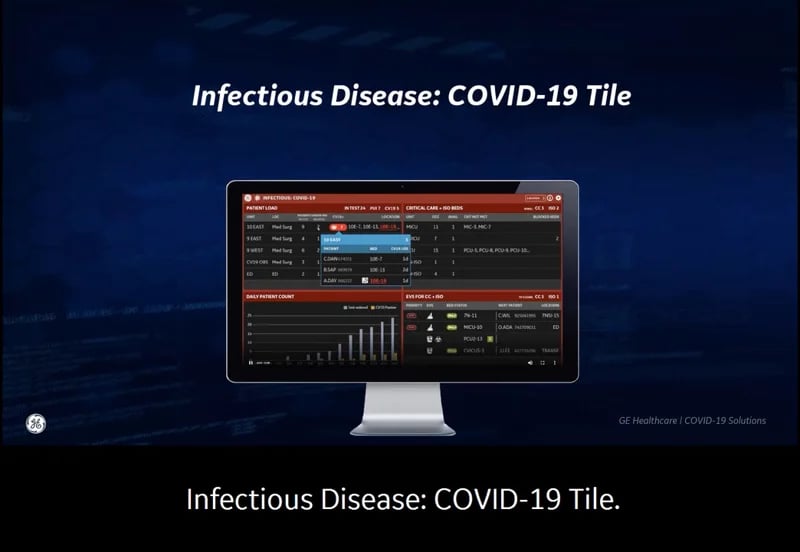 As caregivers and hospitals worldwide are meeting the challenge of COVID-19, many are organizing their response strategies from their Clinical Command Centers.
These Command Centers were created over the past few years to optimize every aspect of day-to-day patient care to create better patient experiences, outcomes, and lower costs.
They were also built to serve as incident Command Centers in the event of mass casualty, disaster, or in this case, the COVID-19 pandemic. However, the Command Center's true power lies in the the combination of decision makers and real-time information.
New Technology to Support Providers
To help with the pandemic, GE Healthcare built and deployed new COVID-19 Command Center Tiles (decision-support apps). The first, the Infectious Disease Tile helps to ensure COVID-19 patients are matched with critical and usually scarce resources and detects various risks and opportunities in Real Time.
To learn more, watch a short walk-through video explaining the Infectious Disease Tile, below:
The second, the Critical Resources Tile helps manage ICUs, negative pressure beds, and ventilators across hospitals in a region.
To learn more, watch a short walk-through video explaining the Critical Resources Tile, below:
To view our latest Clinical Command Center video content click here.
To contact the GE Clinical Command Center team to learn more about these COVID-19 Tiles, please complete the form below.
A Command Center team member will follow-up shortly to gather and share additional information.